Activity Of Company
Mr. G. G. Tanksale founded the Company named Tanksale Plastics on 23rd June 1970. This was the first unit started in industrially backward area in Rahimatpur, about 25 km away from Satara. On 17th September 1993 Tanksale Plasto Engg. Co.- An ISO 9001:2015 Certified Company - was started in MIDC Area Satara. Tanksale Plasto Engg. Co. was a Proprietorship Firm which now has changed the status and is known as Tanksale Polymers Pvt. Ltd.
This unit comprises of state of the art PLC controlled high pressure injection moulding machines which can mould high weighted items. The company has developed various products in the range from 0.1 Gms to as maximum as 370 Gms. All the components are manufactured with very precise machine settings to reduce cycle time and material wastage.
The plant is located in Additional M.I.D.C. area which has a close proximity from the NH4. It is having total plot size of 19,000 Sq. Ft. out of which factory shed has been built on 3000 Sq. Ft. area. We have around 16,000 Sq. Ft. of our own space vacant for the expansion. Plant has electricity load of 93 HP which is also adequate for future expansion. We do have at good strength of trained employees on the shop floor. They can undertake all moulding operations very efficiently and consistently.
Apart from moulding, Company also has started production of injection moulds in house as per customers designs and drawings. It is in the process to become self-sufficient in the field of injection mould manufacturing to reduce costs and lead time.
As the part of future plans, Company has developed its own products which are required for transmission & material handling industry. It comprises of various products like PU coated wheels, Oil Cup, Breathers, Oil Level Indicators etc. to name a few. We are also looking forward to develop some components in sintered metals.
We are also looking forward to initiate our new business line in 3D Printing technology to cope up with the customers demand of prototypes. We shall soon be starting this method of moulding in near future.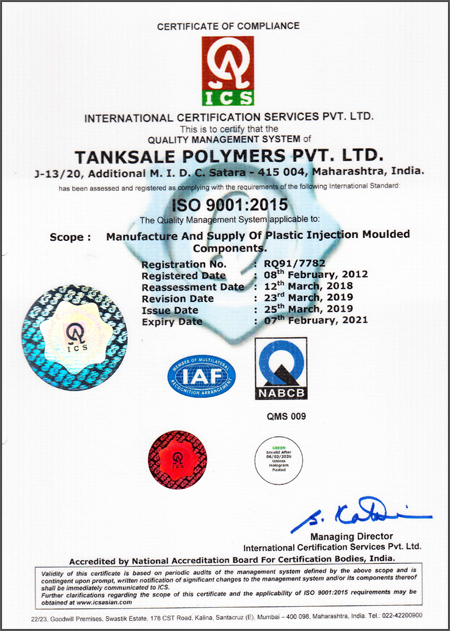 GST No.: 27AAHCT1554C1ZJ
Udyam Regn. No : UDYAM-MH-30-0001858
CIN : U25209PN2019PTC181900